Proactive PAH Risk Assessment1
The connection between accurate, timely risk assessment and patient prognosis
Patient deterioration can happen quickly and without warning2,3
Understanding risk assessment and improving risk status early is crucial for better long-term outcomes1

Taking a closer look: 4-strata risk assessment classification includes substratified intermediate risk1
Compared with the 3-strata model, the 4-strata model was more sensitive to changes in risk, which were associated with long-term mortality risk. The 4-strata model provides for better discrimination within the intermediate-risk group.1
Treatment guidelines highlight the need for comprehensive risk assessment to assess patient status and determine a treatment approach. Due to the wide range of patients falling within the intermediate-risk category, it's important to be particularly prudent in their monitoring—especially with follow-up reassessment.1
Use the 3-strata model at baseline to determine if a patient is at low, intermediate, or high risk1
Use the 4-strata model* at follow-up to distinguish if an intermediate-risk patient is at1:

Intermediate-low risk
Intermediate-high risk
*Criteria used: FC, 6MWD, and BNP or NT-proBNP.1,4

Diligent risk assessment provides timely opportunities to address specific patient needs based on current disease status.1

Right heart changes are the lead indicator of PAH progression—and can occur quickly3,5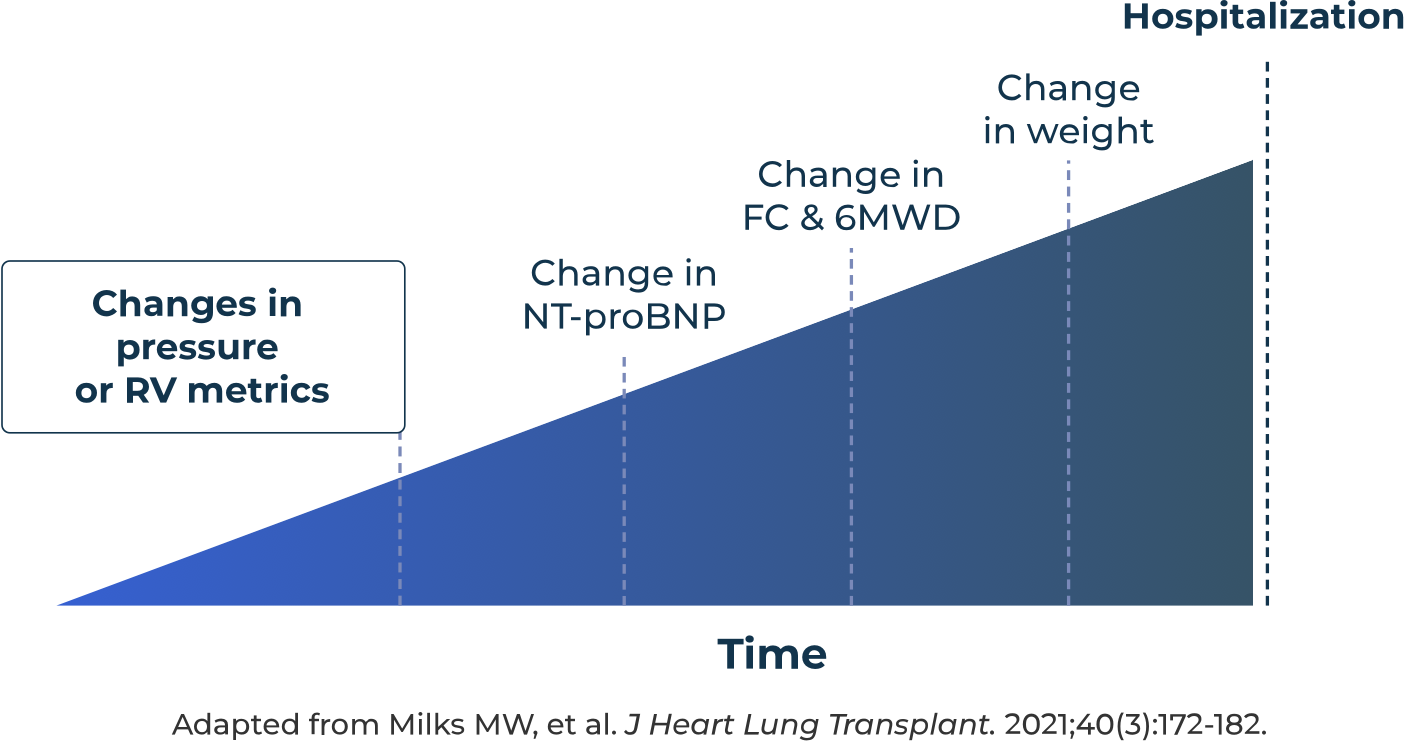 Detrimental changes in RV structure can happen in as little as 12 weeks3
Worsening RV function is the first warning sign that can lead to potential hospitalization5
Risk level can be masked in patients who are physically active, reinforcing the need for frequent clinical assessments—particularly for right heart function1,6

2022 guideline updates emphasize the rising importance of RV function in risk assessment, starting at diagnosis.1

Why objective assessments matter in relation to patient risk status
64%
of patients were miscategorized as low risk using gestalt assessments, and later were recategorized as intermediate or high risk when a formal, objective risk assessment was used.6†
Formal risk assessment tools provide reliable risk identification—a key factor in determining individualized patient management approaches.1,6
†Based on a retrospective chart analysis of 153 patients with FC II symptoms.6
Request a Rep
To speak with a United Therapeutics sales representative, complete and submit this form.
REQUEST A REP
PAH treatment resources
Learn about the various resources offered by United Therapeutics that educate about PAH treatments, disease information, and more.
VIEW RESOURCES
6MWD=6-minute walk distance; BNP=B-type natriuretic peptide; FC=functional class; NT-proBNP=N-terminal pro–B-type natriuretic peptide; PAH=pulmonary arterial hypertension; RV=right ventricle/right ventricular.